ag hall of fame
2016 Award Recipient(s)
2015 Award Recipient(s)
2014 Award Recipient(s)
2012 Award Recipient(s)
2010 Award Recipient(s)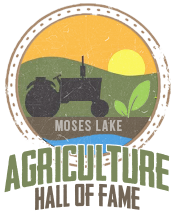 The Agriculture Hall of Fame was formed in 2010 to recognize and honor distinguished individuals that have made significant contributions to the agricultural community. Nominees from this region will be considered for this prestigious award.
Induction candidates are selected based on their contributions to the industry and their support of their community.
Candidates are recognized by their peers for not only their dedication, generosity, and selflessness, but also their demonstrated achievements, noteworthy expertise, and creative innovations that often provide a legacy of impactful results and lasting benefit to the overall enhancement of the local agricultural industry and community at large. Farmers, growers, ranchers, and owners/employees of agribusiness firms are all eligible for nomination as either individuals and/or families.